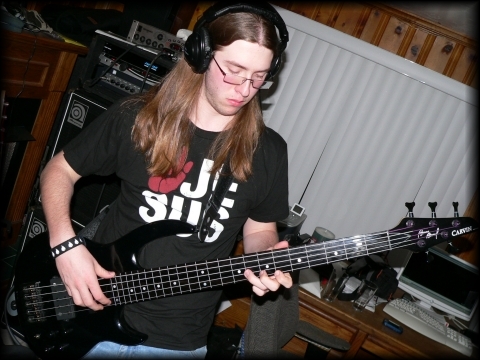 Bo Collins has had a great many musical influences throughout his life, and he tends to categorize the most important ones this way:
BASS: Billy Sheehan, Geddy Lee, Chris Squire, Boz Burrell, John Wetton, John Paul Jones, Geezer Butler, Donald "Duck" Dunn, Bunny Brunel, Ian Hazelwood, and Eric Dowdell.
TROMBONE: David Buetzow, Stasi Fafalios, Tom "Bones" Malone, James Pankow, Dan Regan.
VOCALS: Ian Gillian, Greg Lake, John Wetton, Jeremy Camp, John Schlitt, B.J. Collins.
WRITING: Neil Peart, Steve Vai, Frank Zappa.
(Left: Bo soloing on fretless bass during a recording session for his senior project, in which he performed on all instruments and vocals.)